Treating the Body with Secret RF – A Plastic Surgeon's Perspective
"When people think about skincare, they generally think about the face and skincare for the face," says plastic surgeon Dr. Sands. "But from our standpoint," he continues, "being a body-heavy aesthetic surgical practice, we worry about the skin surrounding everything that we do on the body, whether it be liposuction, a tummy tuck, or breasts, and the skin."
As you can see, surgeons such as Dr. Sands believe in treating the whole body after a surgical procedure. He does this by utilizing the benefits of Secret™ RF from Cutera. Secret RF is a novel method by which a fractional radio frequency (RF) microneedling system is used to stimulate tissue coagulation and hemostasis, as well as regenerate collagen in order to address the common signs of aging. Secret RF can be used to aid in skin revitalization and reduces the appearance of fine lines, wrinkles, scars, striae, and stretch marks. Further, Secret RF is an energy-based device and does not involve manual microneedling, setting it apart from many other treatment options available for skin revitalization.
According to Dr. Sands, Secret RF is no "one-trick pony." There are many applications of this system, from wrinkled skin to facelifts, to the neck, hands, as well as the rest of the body. Dr. Sands says this about Secret RF, "I saw much greater potential to treat other areas of the body that really were not even being talked about." Regarding applications of Secret RF, Dr. Sands says,
It is not uncommon for us to be treating stretch marks for patients to enhance their surgical results of perhaps a tummy tuck or Brazilian butt lift. Additionally, we've gone back and done treatments on scars for our surgical patients.
He goes on to say, "I think that we're only scratching the surface on what we see as far as results."
One of the greatest benefits of Secret RF, according to Dr. Sands, is the ability to treat the whole body. He says, "commonly the telltale signs of aging are not only just skin of the face, but also on the neck and the hands and other parts of the body that are visible. And with a device like this, you really do feel comfortable with the effectiveness of the applications on all of those areas. This gives patients a global difference in their natural age compared to what they actually look like after the treatments."
Another advocate of Secret RF, Dr. Holy founder of THE CENTER for Advanced Dermatology in Phoenix Arizona, says, "What I appreciate about Secret RF is the ability to customize each treatment to the patients' skin concern and lifestyle. Every patient is unique, and Secret RF is my new artistic paintbrush."
Dr. Manu Aggarwal, Medical Director of the Vein Care Center Laser Specialists in Lima, Celina, and Bluffton, Ohio says this system is not just about aging skin and wrinkly lines though, "Secret RF has expanded our treatment options and our target patient demographics – we're even seeing teenagers who are seeking to reduce the appearance of acne scars, interested in Secret RF." Dr. Manu has also seen amazing before and after results from using Secret RF (Photo 1).
These doctors all agree – Secret RF's energy-based treatment sets their results apart from that of their peers. Further, Secret RF is customizable to meet the needs of the individual patient best. For instance, Secret RF has customizable needle lengths that allow for different levels of penetration and intensity. Dr. Aggarwal says,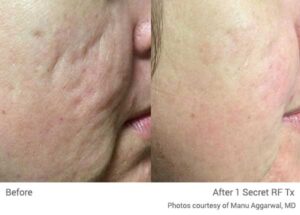 What I appreciate about Secret RF is that I can customize each treatment to the individual patient I am treating, and because we have two needle types, the treatments can be performed on all skin types and all year round.
In addition to this ability to tailor treatments to each individual's needs, Secret RF works for many different kinds of lifestyles. In fact, Dr. Holy says, "I couldn't believe when our first Secret RF patient was male! With the lack of downtime, working men can secretly come in for a treatment and leave looking only slightly red and flushed. It's great for active, busy lifestyles."
Whether a patient is looking to reduce fine lines and wrinkles due to aging or reduce acne scarring, Secret RF can help a wide variety of people from many different walks of life feel like they belong in their own skin again. Better yet, plastic surgeons agree! The utility of this tool is proving its value in the clinic every day across the country.