Many of us struggle with acne, a skin condition that often occurs due to clogged hair follicles beneath the skin. Our sebaceous glands produce an oil known as sebum. Sebum keeps our skin from drying out. In many acne cases, our sebaceous glands over produce sebum causing the hair follicles to become clogged with oil and dead skin cells. The hair follicles can then become inflamed and irritated, resulting in pimples and zits.
What if I told you at REGENERATE we have a way to down regulate the production of oil from the sebaceous glands? Even better, what if we told you our solution does not involve chemicals, creams, antibiotics or pharmaceutical drugs with side effects? AviClear is a laser specifically targeting these oil producing glands, down regulating oil production. Pretty fantastic, right? The sebaceous glands will still produce oil, which is healthy for our skin, but their production will now be regulated (ie, they will not over produce oil anymore).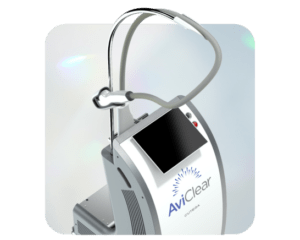 Unlike most lasers, this laser is designed with patient comfort in mind. AviClear is enhanced with the AviCool cooling mechanism. The treatment will be chilly, but patients walk away with no downtime. Clients are going back to school and going back to work immediately post treatment, and no one knows they have just had a laser treatment. The treatment is about 30-40 minutes, and the protocol is once a month for three months. Clinical studies have shown clear skin out to at least two years post treatment protocol.
People of all ages can suffer from acne. The AviClear treatment and outcomes are not dependent on what is causing your acne! If you have tried all the things and nothing has worked for you, and/or if you have been waiting for a natural solution because you DO NOT want to be on Accutane, or do not want your children on Accutane, we just might have a solution for you!
If you or someone you know is suffering from acne, come in for a complimentary consultation! We will educate you on the process and assess whether AviClear is a good fit for you. The results we are seeing from this treatment are life changing. The change in confidence levels and physical appearances have blown us away. We are so excited to continue to change the lives of so many of our community members! Call us for more information. We would be happy to educate you further!
Breca Tracy, PhD
Director of Science & Operations
800 Hwy 290 W, Building F, Suite 200 Dripping Springs, TX 78620
512.368.4548
www.naturalhealingtx.com